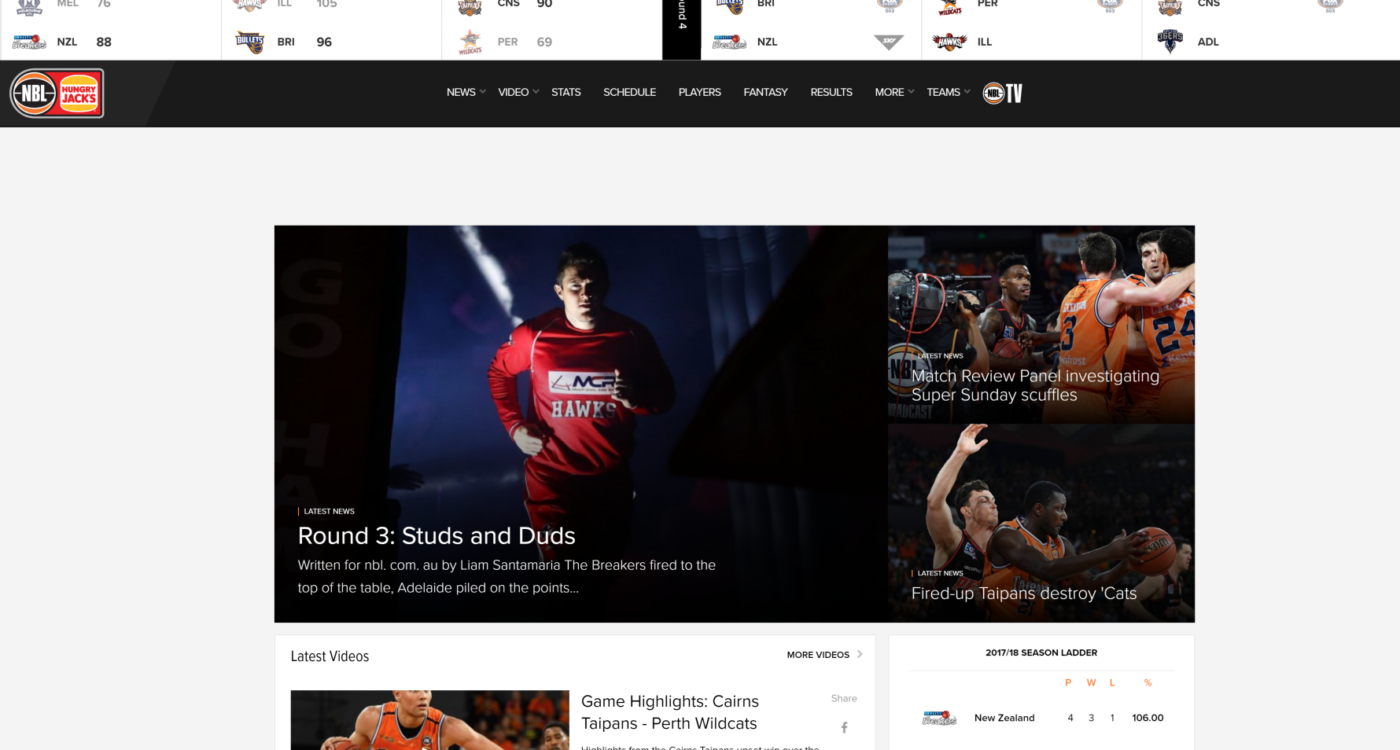 Building direct engagement channels with fans has never been more challenging for rights holders.
As second screen viewing continues to thrive, fans have access to an unprecedented level of content via thousands of news sites, mobile apps and social media channels which cover and analyse every play of every game.
With this explosive growth in digital channels, leagues of all sizes are increasing their investment in multi-platform approaches to remain connected with their fans.
Yet with so many channels to choose from and so much rich content at their fingertips, leagues must not overlook a highly profitable yet often unexploited resource: their official websites.
Taking control
Amid a highly competitive and increasingly fragmented media landscape, every channel has its own place and purpose. The global desire for short, sharp content continues to grow, both in and out of sports, with social media driving second screen experiences as borne out by the rapid growth of streaming and highlights deals between rights holders and the likes of Twitter and Facebook.
Meanwhile, many leagues continue to prioritise distribution via traditional media partners in the hopes of continuing to engage and extend their fan base. With their outstanding content, exceptional reputations and global reach, websites like ESPN and BBC Sport continue to attract millions of unique page visits a day, helping the leagues to reach a truly global audience.
However, in terms of the level of information and potential to directly engage with fans, a league's proprietary assets can be even more powerful. Social media is designed to give fans a snapshot of the action, alerting fans to key events in a match with highly restrictive levels of content, while only a small number of leagues are in a position to drive exposure with a global audience via the largest news sites.
In contrast to these limitations, a league's official website is a perfect medium to offer fans the richest level of information available, enabling them to analyse pre-game, live and post-match content on individual players, teams and games, from one personalised platform. Each sport wants to unlock its full potential in the rapidly evolving digital era, and the league website can be at the heart of this growth.
Becoming a hub
The success of this strategy is dependent on multiple factors. While advancements in data and technology have created a multitude of new and exciting ways to engage fans, the core expectations remain the same. Naturally, fixture lists, league standings, top goal or point scorer statistics still hold the same value as ever and leagues must ensure this content is immediately on-show without fans having to hunt for them.
Beyond this, official sites must provide fans with deeper, more meaningful insights, driven by a level of information that can't be found anywhere else. In order to achieve this, forward-thinking leagues can combine a fantasy league level of historic statistics with rich contextual information, including match reports, real-time updates on goal scorers, assists, substitutions and league tables which automatically update as the goals go in.
For basketball, leagues can satisfy fans' obsession with statistics with detailed box scores and league leader tables across points, assists, rebounds, steals and several others. They can then combine this with real-time information in the form of play-by-play game updates and highly visual team and player shot charts.
In order to make their website the official source for information on their competitions, leagues of all sizes must also be willing to exploit their unique level of access to all their competitions such as behind the scenes interviews and player training footage.
Arguably, leagues are in the strongest position here. They can use their levels of access to publish the same level of restricted content for every club, combining rich real-time video content with historic footage from the archives to create an immersive fan experience. Those leagues without huge broadcasting potential can also live stream multiple games at one time, reaching fans across multiple different mediums.
Making content pay
Establishing a loyal audience on a league's official website brings numerous additional benefits. It provides a direct channel to drive revenues through ticket and merchandise sales by delivering updates and offers to a highly engaged audience. OTT products such as the NBA League Pass can also be advertised to loyal fans in visual formats, giving the league the best possible opportunity of reaching their audience across multiple formats.
Leagues can also utilise accurate fan data for extensions of sponsorship agreements. Existing partners (such as shirt sponsors) can be offered the opportunity to reach a highly engaged audience with dynamic advertising, increasing the relevance and content of the sponsor's messaging, their return on investment and the likelihood of them increasing their spend with the league.
In time, leagues can also personalise the fan experience to better connect with their audience. They can track, monitor and analyse each fan's individual viewing habits, enabling them to tailor content to suit the individual. For example, fans can be served with tailored advertising promoting the merchandise of their favourite team or player.
So while social is still king for keeping fans informed with key snapshot updates, with the right data supply, any rights holder can make their official website the go-to destination for in-depth information and rich engagement. An unparalleled level of customisable content, both statistical and contextual, can be provided to transform how leagues grow and monetise their audience.
At Genius Sports, we work in partnership with sports leagues and federations worldwide, helping to drive traffic to their official websites. We are proven to double our partners' audiences in just 18 months, providing an array of options including a fully hosted website solution, the ability to embed visual and fully customisable Widgets and GameCentres or utilising our API to power your site with rich statistical content.
Leagues of all sizes constantly face questions around the future of sustainable fan engagement, but the solution may be closer than they think.
This article was first published in SportsPro.