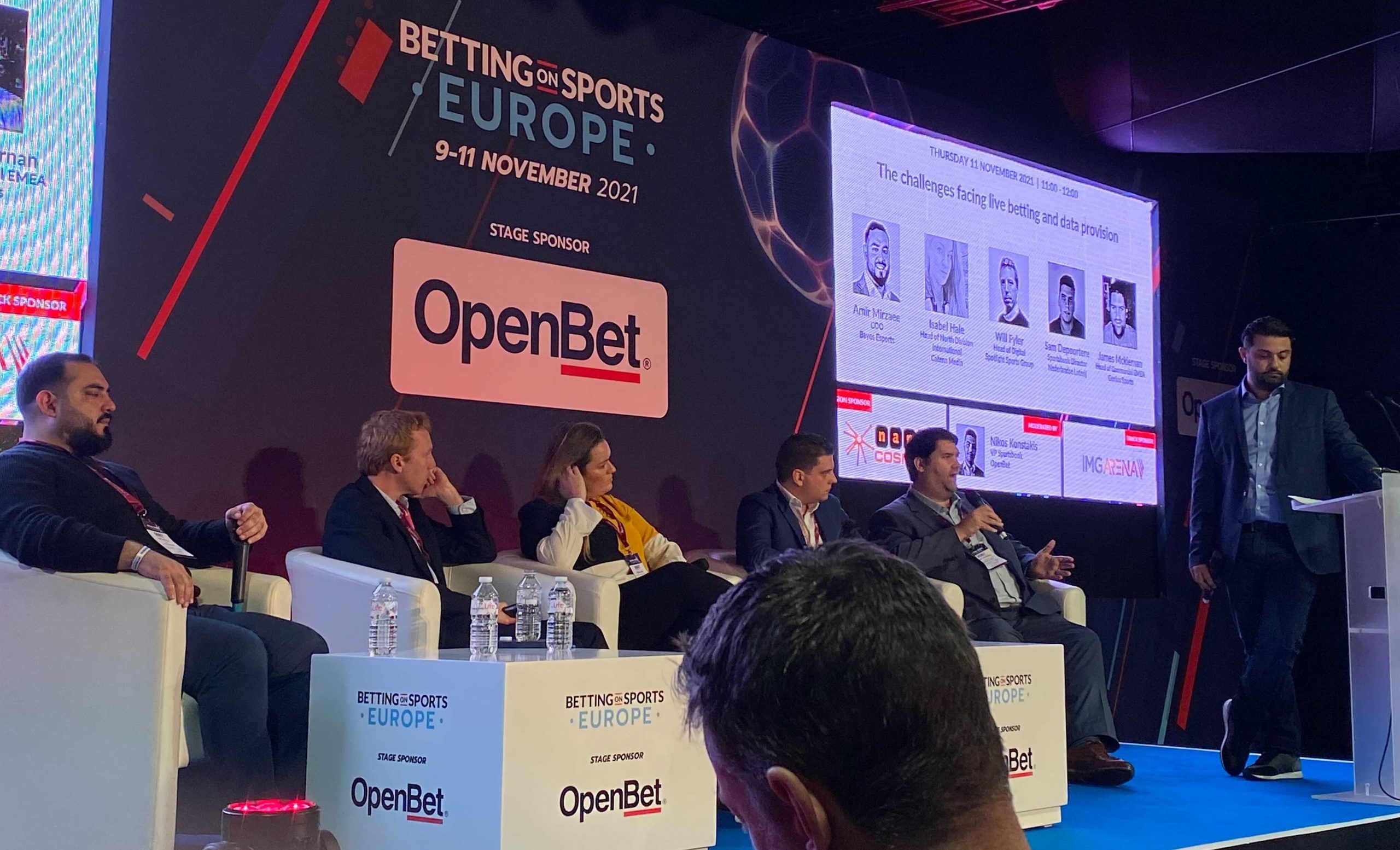 What's next in the world of sports data and what does that mean for in-play betting? And how can sportsbooks maximise live streaming engagement? Read on to find out…
James McKiernan, our Head of Commercial – EMEA, recently spoke alongside industry experts such as Dutch Lottery sportsbook director Sam Depoortere on the panel 'The challenges facing live betting and data provision' at Betting on Sports Europe.
Partnerships with sport
In-play betting is the biggest sportsbook revenue driver across Europe – also growing rapidly in online U.S. states – and official live sports data is key to its existence.
To date, sportsbook traders have required the fastest, most reliable live data supply to price and settle markets. But as operators look to differentiate and deepen onsite engagement, new ways to use this data is an increasingly prominent part of the conversation.
"Through our official partnerships with sports leagues, we're well-positioned to lead innovation in real-time data and content." said McKiernan. "For example, our official NFL data is providing U.S. sportsbooks with more dynamic opportunities to engage fans on and off-platform during games."
Official NFL NextGen Stats (NGS) data is a feature of our new partnerships with DraftKings, Caesars and BetMGM.
Build on main markets
There is much debate about exactly where the next wave of in-play innovation will be. Main markets such as Match Result, Moneyline and Total Goals still drive the vast majority of in-play turnover for operators, meaning market uptime is key.
Rather than new market-types, the panel agreed that there's exciting space to modernise the live betting UX. Whether it's in a visualisation, via a push message or across social media, rich data and insights like player rushing yards and team shots add context to bet selections and the live viewing experience.
McKiernan said: "With fast, secure official data from venues, our trading models instantly update odds and eliminate market suspensions. But we use this data to create player engagement and advertising content that increases live betting turnover for sportsbooks too."
Live video is king
Nowadays, sportsbooks not only compete with other operators, but other forms of digital media such as Twitter, Sky Sports and Netflix for in-game fan attention.
To that end, forward-thinking operators are increasingly positioning themselves as sports media and entertainment properties. Video and data shape the modern fan experience and McKiernan and Depoortere believe that sportsbooks must take note.
Depoortere said: "Whether a fan likes football, basketball or cycling, it's about serving the right content for every individual. A big challenge is how we merge media and betting. As sportsbooks, we can learn from sports leagues who are increasingly engaging their fans with content directly."
McKiernan added: "We're helping sportsbooks create a full fan experience, delivering live streams and stats-led content alongside our core data and trading services. When fans bet in-play, everything is hosted directly onsite meaning they no longer have to go elsewhere to get match updates or watch live games."
SBC's Betting on Sports Europe took place in November 2021 at Stamford Bridge.
To find out more about our official data, trading, streaming and fan engagement solutions, click here.