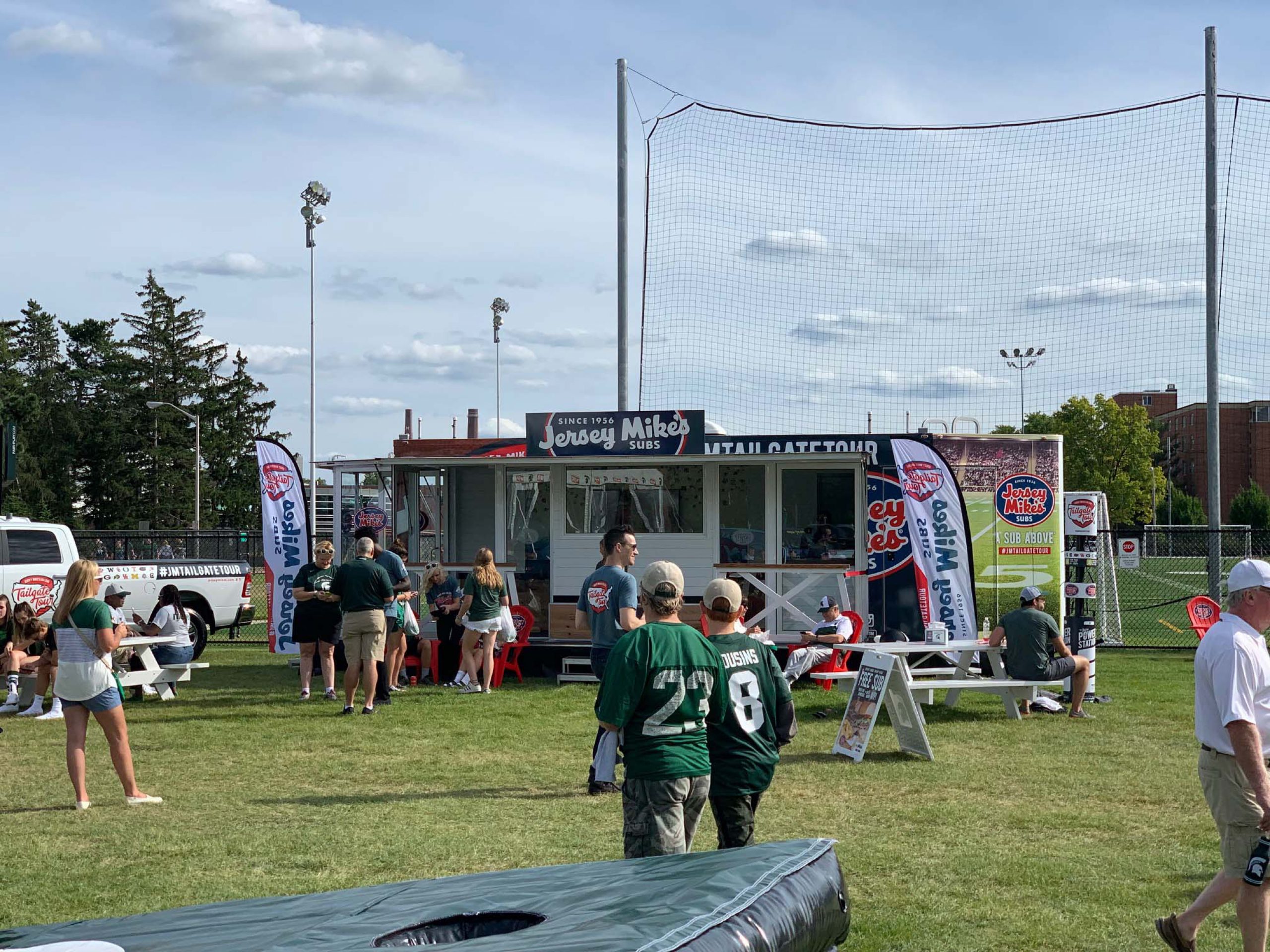 In the latest edition of In Focus, our Head of U.S. Fan Engagement Matt Ryter explains how Jersey Mike's monetized NCAA fans with a joined-up sports marketing campaign, including an innovative free-to-play game.
Sports sponsorships have long been a vehicle for brands to drive awareness and connect with new audiences at scale. But over the last 20 years, the sponsorship landscape has changed significantly.
Partnering with a league or team no longer means a logo slapped on a jersey or stadium signage. Done properly, brought to life through relevant and timely content, sponsorships are a peerless opportunity to build long lasting brand equity.
U.S. sandwich chain Jersey Mike's Subs is an official sponsor of over 40 NCAA schools in Power 5 conferences. Last year the company upped its activation game ahead of the the 2021 college football season, aiming to turn its ties with teams into a digital monetization strategy.
Using gamification to convert fans
When planning its "Tailgate Tour" marketing campaign, Jersey Mike's came to Genius Sports with a clear objective: How can we get season-long exposure to NCAA fans and make our brand feel part of the gameday experience in a memorable way?
The Tailgate Tour was at its heart an experiential marketing ploy, with the company appearing at colleges around the country to hand out free subs throughout the NCAAF season. However translating this brand awareness into revenue-generating footfall across its thousands of stores was the missing piece in the puzzle.
To join the dots, we worked with Jersey Mike' to build a bespoke free-to-play (F2P) game, Tailgate Trivia. Available via the company's mobile app, the interactive game involved a series of 49 quizzes that tested fans' knowledge on each of the NCAA schools it sponsors.

It integrated the "MikeMike's" loyalty scheme, rewarding fans with in-store offers and discounts alongside a chance to win four tickets to the NCAA Rose Bowl – a brilliant way to keep fans coming back and drive monetization.
And by requiring a sign-up, the game handed Jersey Mike's valuable first-party audience data to personalize follow-up marketing and push fans along the funnel.
"Genius' understanding of our brand goals and the U.S. landscape is seriously impressive." said Jeff Hemschoot, VP of Marketing at Jersey Mike's. "We wanted to connect with college football fans in a fun and interactive way and Tailgate Trivia helped us build a real sense of community and loyalty."
Finding fans at scale
With quizzes relating to 49 NCAA teams, Tailgate Trivia had huge national appeal. Unique social sharing features within the game design and a dynamic leaderboard helped to spread the word.
Jersey Mike's also invested digital marketing spend to promote the game across the U.S. It wanted to leverage our exclusive audience data network and media-buying services to reach new football audiences.
Using the sandwich chain's guidelines, we designed a series of dynamic creative ads – and targeted them at football fans across digital using our programmatic ad tech. Applying first-party audience data, we also used techniques such as look-a-like modelling and paced spend in line with the NCAAF calendar.

The end result? Over 185,000 additional users played Tailgate Trivia via the app, while many visited Jersey Mike's stores to play via digital kiosks as they purchased a sub.
Like many brands, Jersey Mike's saw sport as an unrivalled way to scale. And by adding free-to-play and targeted fan marketing to its mix, it was able realize the full benefits of its sponsorship strategy.
Want to learn more about our Media & Engagement tools for brands and sponsors? Click here.
Read our latest report, Unlock the world's most valuable sports audience