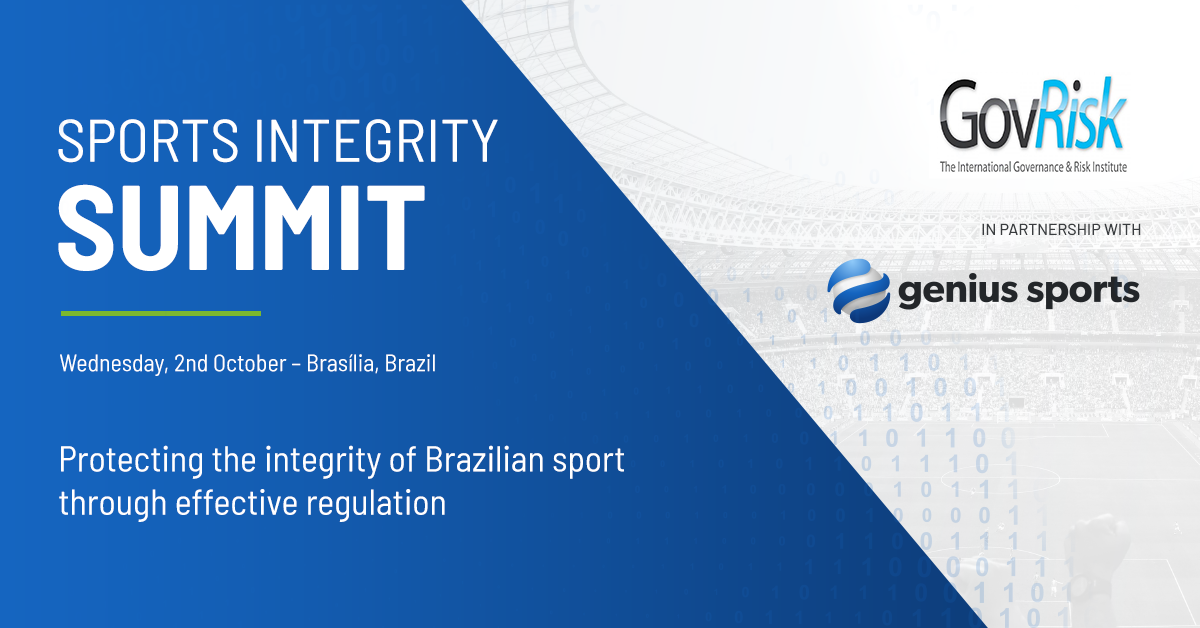 Summit to debate challenges and protections for the integrity of Brazilian sport, including the role of future regulation of sports betting.
The International Governance and Risk Institute (GovRisk) have partnered with Genius Sports to host a landmark Sports Integrity Summit in Brasilia on Wednesday 2nd October.
This Summit is a unique gathering of representatives from key Brazilian governmental agencies and top experts from both public and private organisations. High-profile international and local delegates from organisations including the Brazilian Olympic Committee, Court of Arbitration for Sport, United Nations Office on Drugs and Crime, Interpol, Federal Police of Brazil, and the Public Prosecutors Office, will discuss contemporary challenges to the integrity of Brazilian sport, and visions for future solutions that protect the athletes, the fans, and all related markets.
The Summit comes at a crucial point in time, as organised criminal actors continue to evolve their methods of compromising the integrity of sport all over the world. The Global focus on Sports Integrity has never had a higher profile than it does now, due to heightened awareness of these dangers and a strong global political will to counter them. The Summit will highlight how Brazil can utilise the latest innovative techniques in the identification, investigation and prosecution of sports integrity offences and how international experiences can be utilised in the design of Brazil's regulatory framework.
Increasingly countries are choosing to legalise sports betting and in December 2018, Brazilian law-makers committed to creating a regulated market for both online and land-based sports betting. This recent development provides great opportunities for Brazil but also potential vulnerabilities. If strategies to combat illegal match fixing and other crimes do not involve all key stakeholders, our favourite sports will exploited.  The Summit therefore provides the perfect platform to foster cooperative ways by which to meet these challenges and create a lasting momentum by utilising a combination of sophisticated technology, law, and regulation.
Five expert panels will discuss why integrity in professional sport matters, growing importance of technology in identifying suspicious betting activity, dangers of illegal betting markets, the impact that legislative and regulatory change can have, and possible ways of creating cooperative local, national, and global networks of legislators, regulators, enforcement agencies, prosecutors, data provides and betting operators to prevent match-fixing and other and sports betting related corruption.
Spaces are limited for the event. To view the agenda and register your attendance, please click here.
Dominic Le Moignan, Director of Government Projects at GovRisk, said: "This a unique gathering of all key government agencies involved in legislating, regulating, and protecting Brazilian sport. It is complemented by top international and local public and private-sector experts and stakeholders to the debate on sports integrity. By bringing everybody into the same room, we will be able to create an ongoing debate and sustainable momentum of cross-sectoral efforts to protect the future of Brazilian sport."
Mark Locke, Chief Executive Officer of Genius Sports Group, said: "In any legalised betting market, effective regulation can provide greater transparency, cooperation and sharing of information: all vital pillars to protecting the integrity of sport. Brazil has a unique opportunity to create the leading regulatory framework in the world and we look forward to sharing our extensive experience in sports integrity, data and regulation to protect and enhance the future of Brazilian sport."