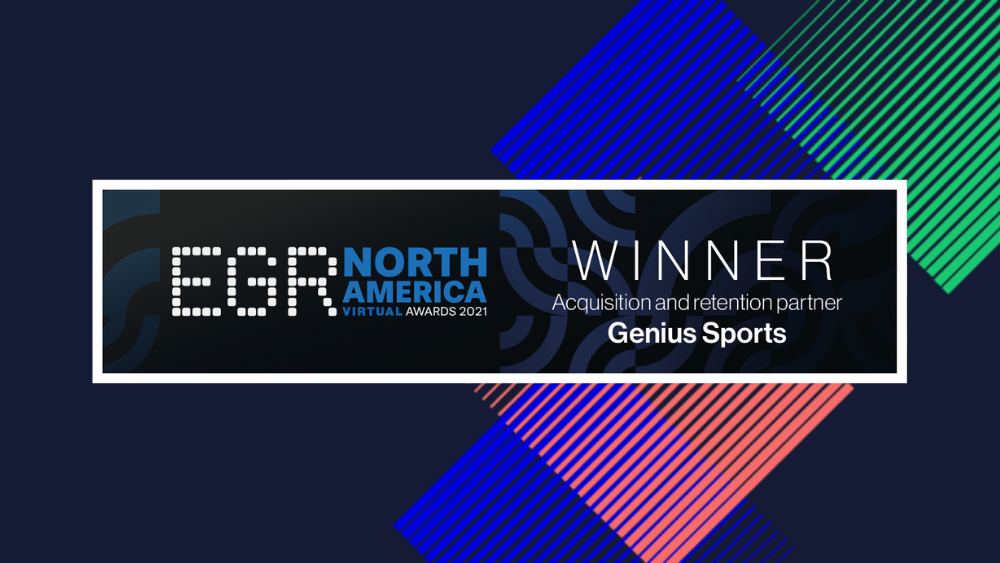 Leading online gaming industry publication awards top honor to Genius Sports for driving U.S. sportsbook marketing performance.
LONDON & NEW YORK — Genius Sports Limited (NYSE:GENI) ("Genius" or "GSL") the official data, technology and commercial partner that powers the global ecosystem connecting sports, betting and media, today announced that is has been named "Acquisition & Retention Partner of the Year" at this year's EGR North America Awards, which were held virtually on May 26th.
Hosted by eGaming Review (EGR), a leading industry news outlet and social network covering the online gaming industry, the EGR North America Awards celebrate excellence in the North American e-gaming industry. The awards, known as "the Oscars of the e-gaming sector," are considered the premier industry recognition for online gaming suppliers operating in the U.S. market.
The "Acquisition & Retention Partner of the Year" Award recognizes companies that "excelled as a marketing partner to sportsbook and iGaming operators during the past 12 months." This year's awards committee comprised a judging panel of independent online gaming journalists and industry experts aligned to their specific market knowledge.
Genius Sports partners with more than 20 licensed sportsbook operators in the fast-growing U.S. sports betting market, including DraftKings, BetMGM, Caesars, bet365, and William Hill.
The company's global Media & Entertainment services offering include digital marketing and engagement tools that drive customer acquisition and retention, allowing brands to create meaningful connections with sports fans in real-time.
"Genius Sports is very proud to be recognized by EGR, a leading voice in the online gaming industry, for the strong marketing results our platform has produced for our U.S. clients," said Mark Locke, CEO of Genius Sports. "We appreciate our industry's recognition and will continue challenging ourselves to set the bar for excellence in service of the world's top sportsbooks through our evolving and unmatched digital marketing and engagement tools."