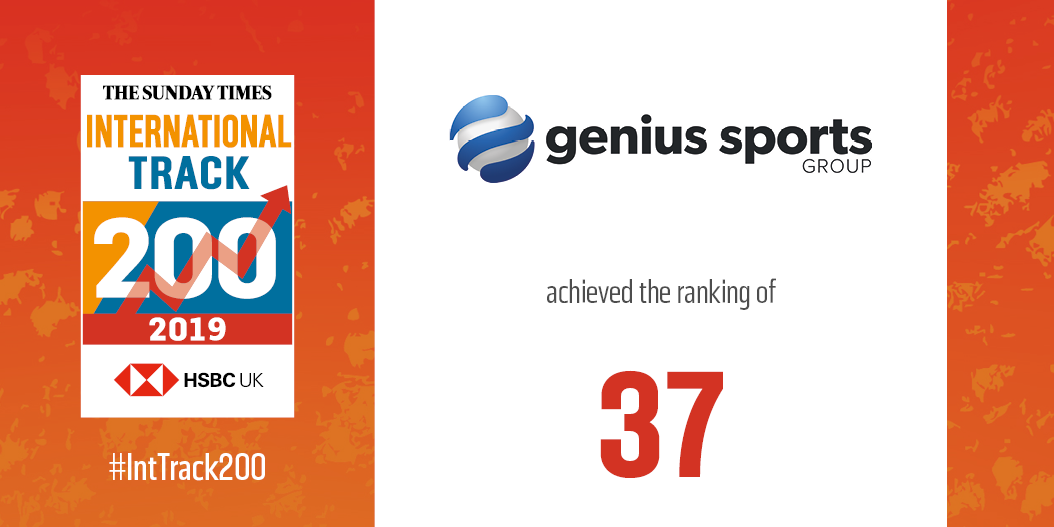 Genius Sports Group, the global leader in sports data technology, has been named in the Sunday Times HSBC International Track 200 for 2019.
Now in its 10th year, the Track 200 is renowned for recognising Britain's leading companies with the fastest growing international sales over a two-year period. Genius Sports Group ranked in 37th place, having nearly tripled global turnover since 2015.
The London-headquartered company's international growth has in part been driven by major client wins in the US, including the NBA, PGA TOUR, MLB and the NCAA. The Group now provides data collection, commercialisation and integrity services to over 500 sports organisations worldwide.
Its sports betting arm, which provides technology and services including in-play odds to licensed sportsbook operators and lotteries, has seen rapid growth in regulated territories across Europe, Latin America and the newly-liberalised US market.
Genius Sports Group was acquired by global private equity fund Apax Partners in July 2018. Over the past two years, it has expanded its global network of offices in locations such as Medellín (Colombia), Los Angeles (USA), Lausanne (Switzerland) and Vilnius (Lithuania).
Mark Locke, CEO of Genius Sports Group, commented: "Being named in the 2019 Track 200 is a fantastic achievement for our entire company and validation of our standing as the leading and most trusted technology partner to the sports, betting and media industries. We are proud to be selected amongst other hugely successful businesses and look forward, alongside Apax Partners, to continuing our huge growth in the years ahead."