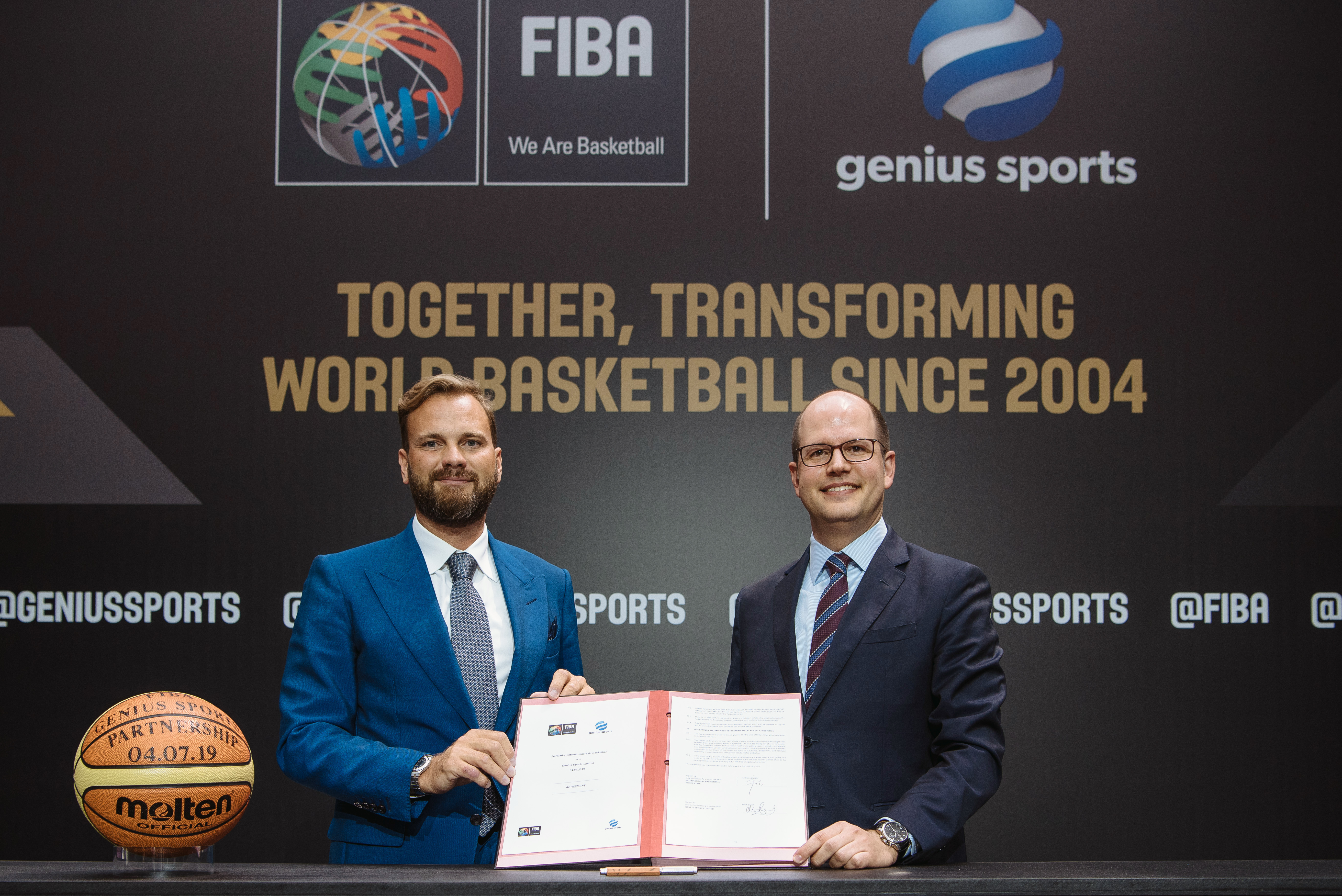 Genius Sports Group CEO Mark Locke and FIBA Secretary General Andreas Zagklis announce the long-term renewal
FIBA, the world governing body of basketball, and Genius Sports, a global leader in sports data, technology and integrity services, today announced a long-term renewal of their landmark partnership.
Since 2004, FIBA and Genius Sports have worked closely together to develop and deploy ground-breaking technology that has transformed the data and digital infrastructure of over 200 basketball leagues and federations worldwide.
This partnership will further support the adoption of essential solutions such as FIBA Organizer, a digital competition management tool, and FIBA LiveStats, the foremost play-by-play data collection system, operated at courtside across more than 85,000 games annually around the world.
FIBA LiveStats will enhance the capture and distribution of split-second statistics to enrich the live fan experience for basketball audiences globally as well as deliver new commercial opportunities for the sport. This includes across league and federations' official websites, mobile apps, social media, broadcast, OTT and highlights platforms, fantasy sports, sponsors and in-stadia scoreboards.
As part of their commitment to eradicating data piracy, both parties will also work closely to prevent the collection of unofficial data from FIBA events. Prohibiting the collection and distribution of unofficial feeds will provide leagues and national federations with optimum control and visibility over their data, maintaining its commercial value and strengthening the integrity of their competitions from betting-related corruption.
FIBA Secretary General Andreas Zagklis said: "We are very pleased to continue this long-term and unique relationship with Genius Sports. We have been working together for more than 15 years to develop and offer state-of-the-art digital tools for national federations and leagues. Thanks to this renewal, we will continue the joint efforts in creating innovative tools and make sure that our sport is even more attractive to fans around the world."
Mark Locke, CEO of Genius Sports Group, said: "The Genius Sports and FIBA partnership has been one of the most influential and innovative in sports technology. Together, we've powered over 500,000 games from courtside in over 150 countries and engaged more than 25 million fans.
"But, this renewal is as much about the future as our achievements to date, and we're excited to introduce a number of cutting-edge innovations later this year, driving the next stage of digital transformation and data analytics for leagues and federations at all levels of basketball."