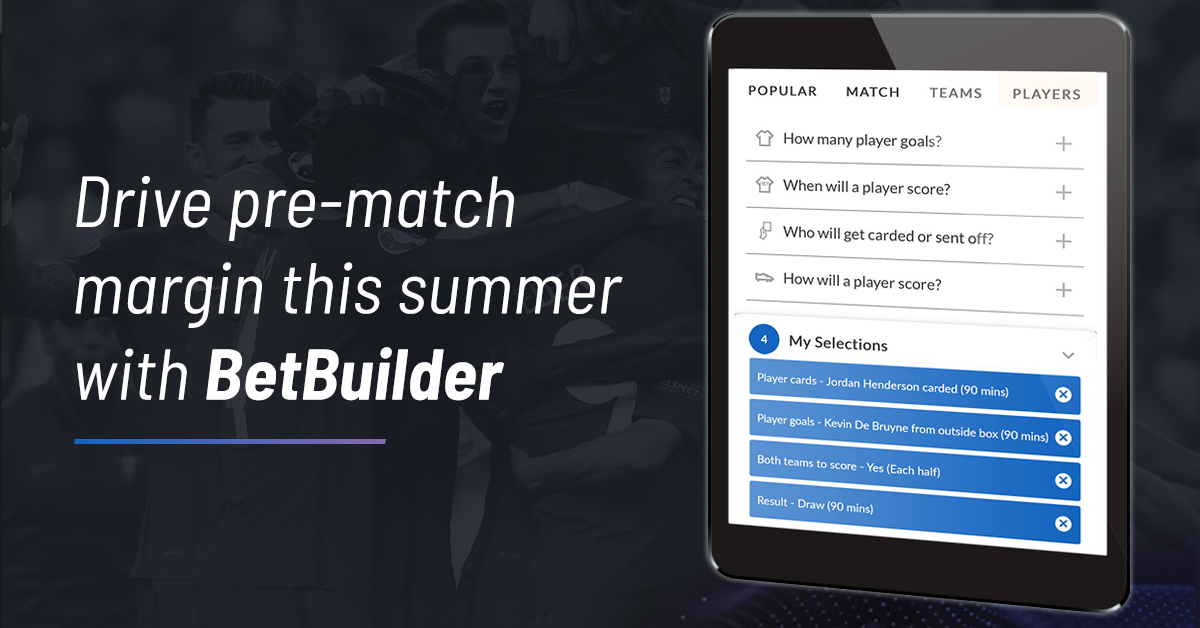 In part two of Betgenius' Euro 2020 series, James McKiernan, Commercial Director for Europe, explains why same-game multiples will once again be a hugely popular product and how operators can set their offering apart. This article was originally published on SBC News.
Same-game accumulators and request-a-bet (RAB) products were one of the biggest success stories of the 2018 FIFA World Cup. Allowing punters to bet more creatively and with greater freedom and choice, we witnessed them consistently drive around 25% margin across Europe, Africa and LatAm markets.
The idea of betting on combinations without any restrictions, however quirky, unlikely and outlandish they might seem, resonated with recreational punters and it has continued to do so ever since. The product is a dream for marketers and traders alike. In its H1 2019 results William Hill revealed its 'YourOdds' offering made up a quarter of its tournament gross win.
Two years on from the World Cup, RAB-style products – automated or otherwise – have become a fixture in most online sportsbooks. But remaining at the front of this type of betting as the next major tournament approaches means sportsbooks must breathe new life into the product and align with trends in fan engagement.
Tapping into player performance                                    
To that end, the growth in popularity of player performance markets so far this Premier League season is an exciting development.
Player stats have been central to how fans understand football for a long time. By pricing these markets, tier one brands now enable their customers to apply their forensic football knowledge in ways that have previously never been possible.
When punters see that Wilfried Ndidi topped the Premier League tackle charts in the 2017/18 and 18/19 seasons – and ranks third so far this season – for example, they can back a directly related outcome such as Ndidi to surpass his tackles total or to receive a yellow card.
Promoting the impact of star players within matches at Euro 2020, like Kylian Mbappe to have five shots, Marco Reus to score and Raphael Varane to complete 60 passes when Germany and France meet at the Allianz Arena on 16 June, is tailor-made for the modern football fan.
Alongside Sportcast, we've added more than 20 player performance markets to BetBuilder, using the latest AI and machine learning methodology in our pricing to ensure all market combinations are possible and profitable.
Social climber
Like fantasy sports, betting on the performance of individual players adds to the live viewing experience. With an interest in tackles, passes and shots, fans count them as they happen –  even when they don't impact the match result. Equally, just like the 24/7 content proliferated by Twitter and Instagram, player performance betting incentivises fans to closely follow their favourite football stars as individuals.
By running social media marketing campaigns involving market-types and multiples linked to the trending and most-talked about players this summer, sportsbooks have a great chance of tapping into the tournament narrative and driving retention rates.
If Cristiano Ronaldo starts in scintillating style with goals in his opening two group games for instance, the ability to create and drive a storyline on his performance versus France will convert far more effectively than more traditional pre-match markets. This has been a key piece of advice we've given both our BetBuilder and Genius Sports Media's digital marketing partners ahead of the Euros.
At the 2018 World Cup, BetVictor's hugely popular Million Pound Bet competition enjoyed the lucrative benefits of social media marketing, with punters sharing and comparing their unique bet slips on Twitter all tournament-long. It took a 17,042/1 long-shot when Uruguay faced Portugal in the last 16 to scoop top-prize in this instance. But by adding player performance markets to same-game-multiples and leveraging the social buzz, the chance of pre-match success at Euro 2020 will be far more likely.