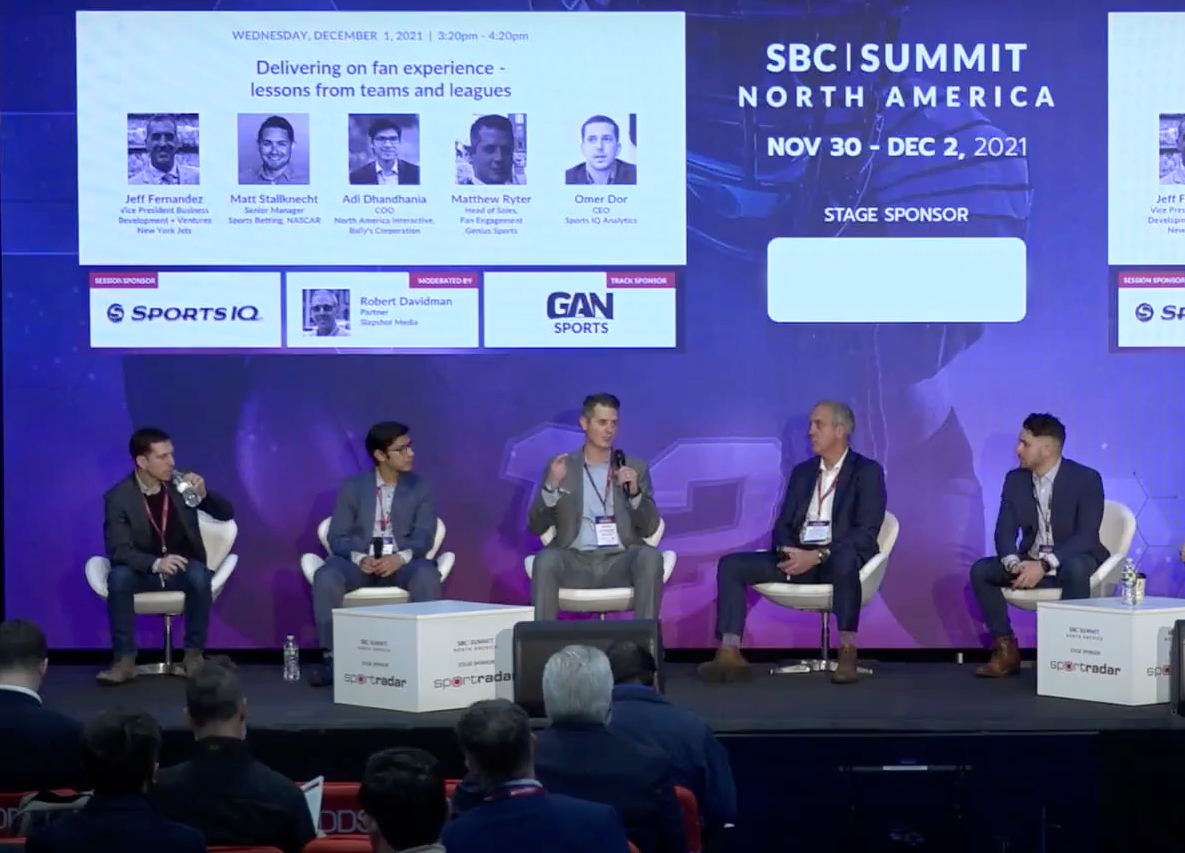 One of the biggest questions being pondered in the boardrooms of U.S. sports leagues and teams over the past two years has been how they can leverage the explosion of legal sports betting to grow engagement directly with their fans.
There are myriad ways to do so, from the simple and obvious, to the innovative and visionary.
Matt Ryter, our Head of Fan Engagement Sales, recently discussed the changing world of sports fan engagement alongside industry experts Jeff Fernandez (New York Jets VP of business development), Matt Stallknecht (NASCAR senior manager for sports betting) and Adi Dhandhania (Bally's chief operating officer) at SBC Summit North America, which took place in New Jersey in December.
Engaging with betting
Less than three years since the U.S. Supreme Court struck down PASPA, 30 states have legalized sports betting, with markets like New Jersey now generating over $10 billion in handle per year.
For leagues and clubs, this rapid growth has created new opportunities to drive revenues and transform how fans consume sport – just as the NFL, NASCAR and Philadelphia Eagles have in partnership with Genius Sports.
Stallknecht told the audience: "We (NASCAR) strongly believe gaming, sports betting, fantasy and everything in this mix can really grow our sport. It's easy to license a logo but we're looking at new, savvier ways to work with operators to grow."
This was a sentiment echoed by the panel. As the legalized American market matures, leagues and clubs must think big and view betting as a component of a wider fan engagement and digital strategy.
Capturing the long-term potential will require more than simply commercializing an official data feed or signing a sponsorship deal – how to smoothly integrate live odds and betting offers into broadcasts and other fan-facing platforms will be crucial to maximizing the opportunity.
Fernandez, part of the Jets' biz dev leadership team, added: "The focus is now on the long-tail. We haven't really started the first quarter. The partnerships we're putting in place are about trust, growing our fanbase and growing the sport among younger audiences."
Connecting the venue with digital
Packaging the best possible gameday product has long been essential to attracting new audiences and unlocking growth for sports.
According to the panel, sports betting alongside other means of gamification, such as free-to-play games, are powerful tools to enhance – and even connect – both in-venue and digital experiences.
Ryter said: "We've spoken to teams across different leagues – how can we make this a social experience across the two? In-stadia, it can be engaging fans by creating unique in-play bets or keeping them around after games in a sportsbook lounge to avoid traffic and watch more action. Online, it can be a free-to-play game or using fan data to personalize gameday interactions."
This is a vision many U.S. players are working towards. For example, NASCAR enables its authorized gaming partner WynnBET to operate a sportsbook lounge in-venue.
Meanwhile, the NFL, MLB and National Lacrosse League all utilize free-to-play games such as season-long fantasy and prediction contests to capture first-party audience data, enabling personalized marketing for each individual fan.
Stallknecht added: "The sticky factor starts in-venue. If we can get fans to have a great time, throw bets, eat, drink and have a great experience, they're more likely to go home, engage on digital and watch more races. With the right tools to capture fans – and the more we push them along the funnel – it'll open new revenue streams via merchandising and ticketing."
Live sports viewing
Nowadays, the lines between sports, media and entertainment are becoming increasingly blurred. A fan's attention is highly fragmented across channels – they check multiple platforms via their mobile for news, stats and updates as they watch live on TV.
And if the viewing experience isn't sufficiently compelling, they'll switch to alternative content like Netflix or YouTube.
Global entertainment giant Bally's Corporation recently partnered with Sinclair Broadcast Group to integrate content across 190 regional TV stations.
"We're big believers in the convergence of media and gaming." said Dhandhania. "Today, the experience is disjointed. You're consuming content on your TV while betting on your phone. It's two separate devices and that leads to friction."
He added: "[In the future] you'll have ways of interacting on TV with a related call-to-action on your phone. The next evolution after that is the single-screen experience."
In 2021, Genius Sports acquired leading data tracking and video augmentation business Second Spectrum. Trusted by ESPN, BT Sport, NBA and MLS, our technology is now powering CBS' new RomoVision feature, adding new levels of live insight to their NFL broadcasts.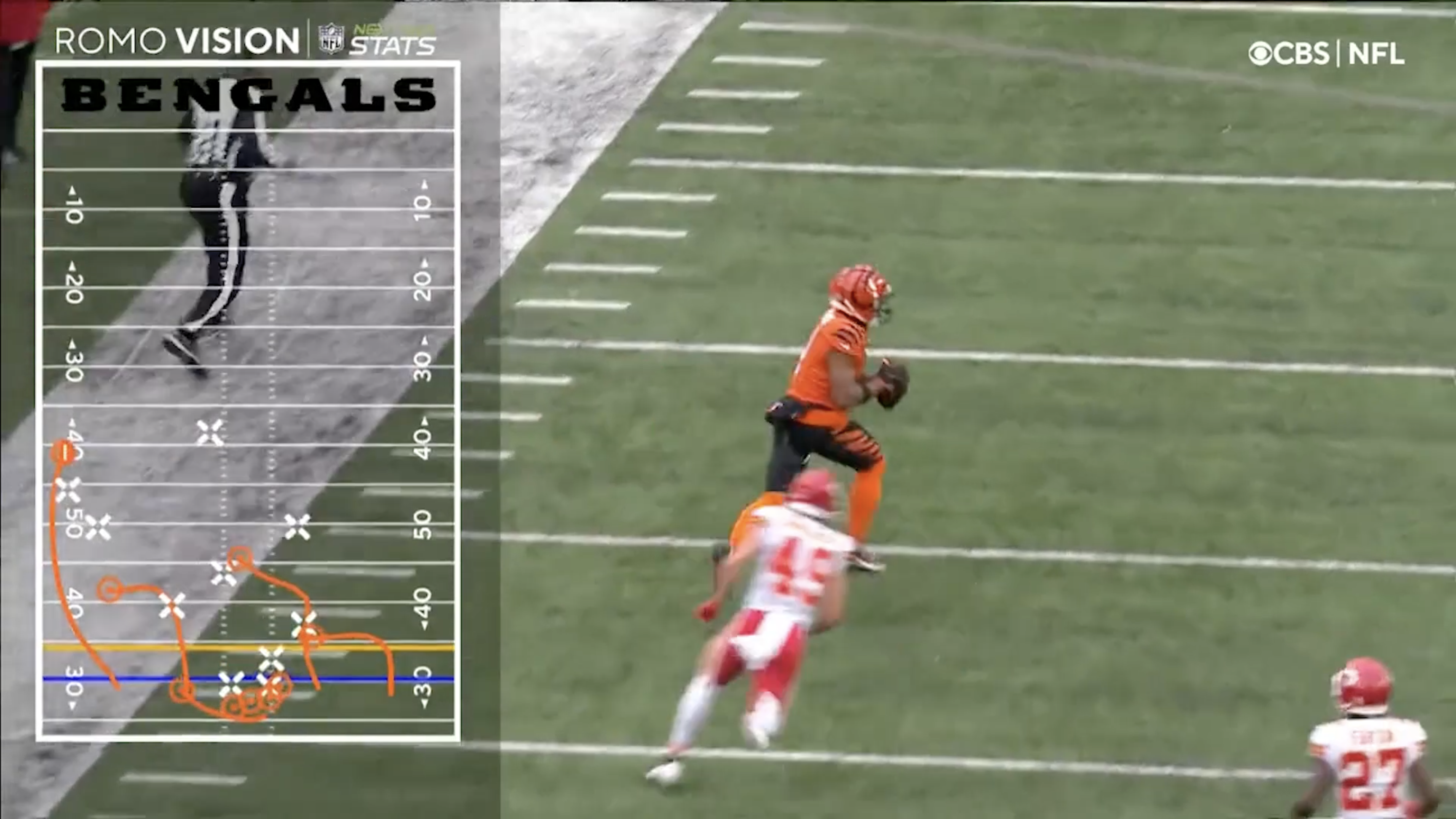 "Looking at the NFL specifically, we capture and integrate player tracking data with CBS to enrich live viewing and analysis during the game or at half-time." said Ryter. "It's a great example of how data can enrich fan engagement during the live game window."
The panel 'Delivering on fan experience – lessons from teams and leagues' took place in New Jersey in December 2021.
Want to learn more about our fan engagement tools for leagues & clubs? Message Matt Ryter directly.