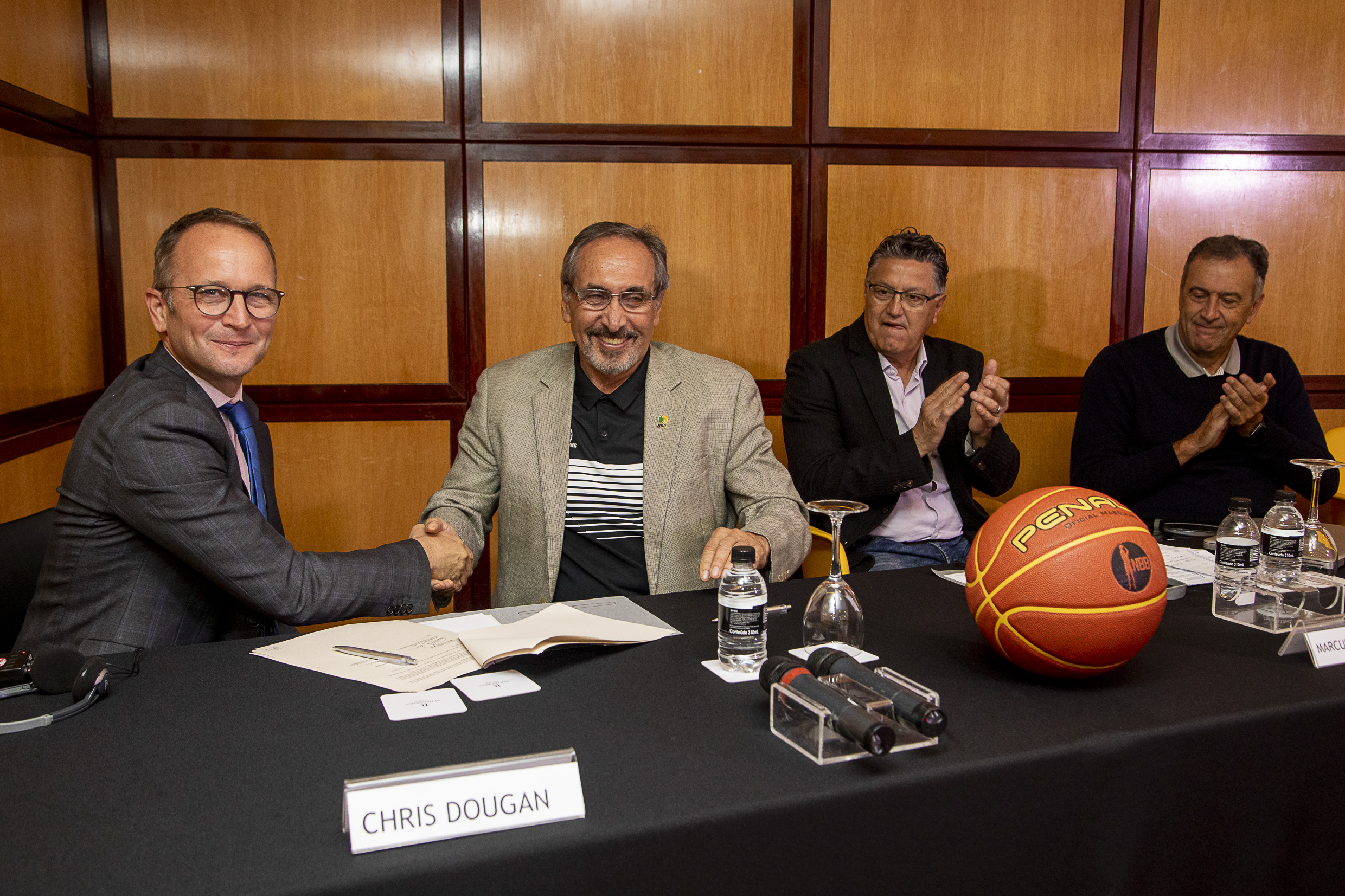 Chief Communications Officer Christopher Dougan with LNB President Kouros Monadjemi
Genius Sports, the global leader in digital sports content, technology and integrity services, has been selected by Brazil's National Basketball League (LNB) to launch a major new integrity and live data strategy.
As the trusted partner to many of the largest organisations in world sport including the NBA, FIBA, Euroleague Basketball, the NCAA, English Premier League, and the German Football Association, Genius Sports will provide the premier basketball league in Brazil, the NBB CAIXA, with unprecedented protection against the threats of match-fixing and betting-related corruption while deploying an innovative technology strategy aimed at driving fan engagement and raising the profile of the competition.
With the Ministry of Economy in the process of creating a regulated framework for sports betting in Brazil, the LNB has adopted a proactive stance appointing Genius Sports as their exclusive integrity partner. The agreement will see Genius Sports monitoring, analysing and assessing real-time odds movements on every LNB game, providing crucial visibility over global betting activity and intelligence to launch effective integrity investigations.
The LNB has also granted Genius Sports exclusive betting rights to control the collection and distribution of its official data.
FIBA LiveStats, the premier data collection in world basketball, will continue to provide the LNB with fast, accurate and robust data feeds, direct from courtside to power their website, mobile app, scoreboards, betting partnerships and more.
Kouros Monadjemi, LNB's president, said: "The LNB has always been ahead of new technologies and services that can impact the way our fans consume basketball. The partnership with Genius Sports proves that we are among the top-level basketball leagues in the world and this new step of our relationship will help us maintain our credibility and transparency among the teams, fans and media".
Mark Locke, CEO of Genius Sports Group, said: "Through advanced technology and an effective integrity strategy, all sports can proactively engage with the legal, regulated betting industry to drive new revenue and expand their global audience. The LNB is putting proven measures in place to protect the integrity of their competitions and we're proud to be expanding our partnership with them at such an important time for Brazilian sport".